Children's Book Reviews
The Internet Writing Journal
By Nancy Littlejohn
Good news for parents with toddlers or babies who still explore the world by gnawing on everything! More and more publishers are reissuing classic books in board book format. These sturdy books stand up to lots of love (i.e. many readings with novice page turners at the helm), and best of all, the new format exactly recreates the original book with no abridgement or other changes. Another plus for board books is that they are less expensive than hardback books and since they are smaller, fit conveniently inside a diaper bag or purse for emergency story times. Joining the ranks of old favorites now debuting as board books are
The Secret Birthday Message
by Eric Carle and
Leo the Late Bloomer
, both originally published in 1971 as hardback picture books.
The Secret Birthday Message by Eric Carle (author/artist)
HarperFestival, Feb., 1998.
Board Book, 22 pages
Ages: Preschool
ISBN: 0694011487.
Ordering information:
Amazon.com.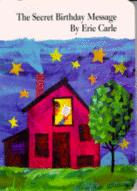 The Secret Birthday Message
, illustrated with Carle's bright, eye-catching collages is the story of Tim, who finds a strange envelope under his pillow the night before his birthday. As in all of Eric Carle's books, there is a theme concept, in this instance, shapes. Tim must follow the shapes in the coded note to find his birthday present. A semi-circle represents the moon, a star represents the biggest star, an oval represents a rock and so on through several other shape clues until at last a darling puppy is peering at Tim through a rectangle (door). As in the original edition, the shapes are cutouts that add an extra bit of challenge for children to poke, peek through and trace. It makes a darling birthday present, but it's enough fun to make it a favorite long past birthday time.
-- Nancy Littlejohn
---
Leo the Late Bloomer by Robert Krauss, Pictures by Jose Arauego
Harper Festival, Feb., 1998.
Board Book, 30 pages.
Ages 6 mos -2½.
ISBN: 0694009806.
Ordering information:
Amazon.com.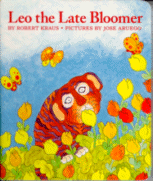 Poor Leo can't do anything right, and illustrator Jose Aruego has made that abundantly and hilariously clear with Leo the tiger's baleful expression in
Leo the Late Bloomer
. Author Robert Kraus has woven a tale about a little guy who can't yet read, draw or talk and is a very sloppy eater. Leo's wise mother knows he's just a late bloomer, but Dad is worried and watches Leo for signs of blooming. As Leo's mom says though, "A watched bloomer doesn't bloom," so Dad pretends to watch television instead of Leo. Winter comes and goes. Dad is still watching. Spring begins to bud, and Dad is still watching. Finally, in Leo's own time, he BLOOMS! He can read, write and draw like a whiz; and of course, eat neatly. There's just one hurdle left, talking. We see Mom's knowing look and Dad's suspicious one turn into love and relief respectively as Leo utters not just one word, but a WHOLE sentence, "I made it!" For all parents of late bloomers who watch the early blooming neighbor kids show off their skills, this book is a gentle reminder that everything happens in its' own good time. For little ones, it's a delightfully illustrated book where they can see all kinds of interesting animals and try to find Leo's Dad watching Leo. The best part is the happy ending both in picture and word of the whole family sharing a group hug as Leo says what all of us, including children, have felt many times, "I made it!"
-- Nancy Littlejohn
---
Be Mine by Dana Regan (author/artist)
Harper Festival, Feb., 1998.
Board Book, 30 pages.
Ages 6 mos -2½.
ISBN: 0694011576.
Ordering information:
Amazon.com.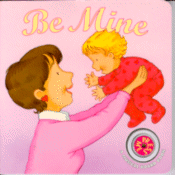 Be Mine is a new musical board book. With just a punch of the button, an electronic rendition of the turn-of-the-century hit "Let me Call You Sweetheart" bursts forth. The text of the book is the lyrics to the song. Instead of the sweethearts in the romantic sense, though, we see a mom singing and playing with her baby. There are lots of hearts scattered around the pages for children to spot and lots of loving looks shared between Mom and Baby. As with all good lullabies, Baby ends up asleep tucked in his cozy bed with Mom gazing on as the last line proclaims, "I'm in love with you." It's a precious Valentine book, and it's fun to sing along with this enduring tune.
-- Nancy Littlejohn