The Complete Monty Python's Flying Circus; All the Words Review
by Editor
The Internet Writing Journal
The Complete Monty Python's Flying Circus; All the Words
by Graham Chapman, Eric Idle, Terry Gilliam, Terry Jones, John Cleese, Michael Palin
Pantheon, Nov., 1998
Paperback, 352 pages
Ordering information:
Amazon.com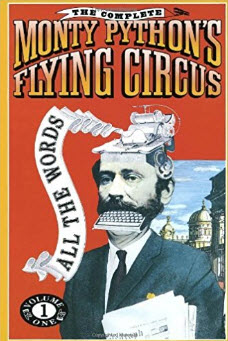 The Complete Monty Python's Flying Circus; All the Words
contains the words to your favorite Monty Python scripts. The complete scripts are contained in the book, which is sold in two volumes. Some of the episodes include minister of silly walks, the dead parrot and banter in a cheese shop.
The first volume contains the scripts for 23 episodes and the
second volume
contains 22 episodes. The scripts include the characters and the names of the performers in the Monty Python sketches.
The official Monty Python says editor Roger Wilmut also "wrote up stage directions when none existed" for the scripts but most of "Gilliam's indescribable animations are left undescribed."