Mystery/Thriller Book Reviews
The Internet Writing Journal
,
August 1998
Page One of Four
9 Scorpions by Paul Levine
Pocket Books, September 1998.
Hardcover, 373 pages.
ISBN: 0671019392.
Ordering information:
Amazon.com.
|
Amazon.co.uk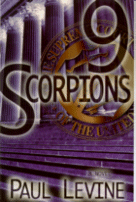 Beautiful and brilliant Lisa Fremont has had the proudest moment of her life -- she's just been offered a clerkship to new Supreme Court Justice Sam Truitt. Her happiness is short-lived, however. The powers that took her from a strip club in San Francisco's infamous Tenderloin district to Stanford Law School and to the Supreme Court are now demanding payment for the help she received -- she is expected to influence Truitt's vote on a crucial case involving a terrible aircrash of Atlantica Airlines in which millions of dollars are at stake. Lisa's job is to use her legal acumen to influence the judge -- if all else fails she must use her feminine wiles to influence his vote, or her life will be in danger. But what Lisa doesn't count on is the overwhelming guilt she feels while playing Delilah, nor the growing respect and attraction she will feel for her victim. Somehow the two must unite to stop a terrible wrong from occurring -- and stay alive in the process.
9 Scorpions
is a fascinating foray behind the velvet drapes of the Supreme Court from the popular author of the Jake Lassiter series. The peek behind the scenes of our highest court is fascinating, and the imaginative plot will have readers on the edge of their seats: the marks of an excellent legal thriller. The character of Lisa, the girl from the Tenderloin who made it to the Supreme Court by paying a terrible price, is especially interesting. With a intriguing premise, nonstop action and a romance so intense it scorches the pages,
9 Scorpions
is one legal thriller that really delivers. Highly recommended.
---
Digging Up Momma by Sarah Shankman
Pocket Books, Feb 1998.
Hardcover, 275 pages.
ISBN: 0671897535.
Ordering information:
Amazon.com.
|
Amazon.co.uk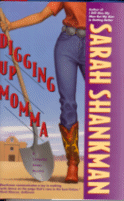 New Orleans crime reporter and sleuth Samantha Adams has had a lot to deal with in her life: the death of her parents in a fiery air crash when she was 5, a messy divorce and a bout with alcoholism. Just as she seems to be getting her life together, life throws her another curve: a note arrives from her dead mother asking Samantha to meet her in Santa Fe, no questions asked. Overwhelmed by the implications of the note, Samantha sets off for the New Age Mecca with a mixture of skepticism and a desperate hope that her mother might still be alive. Armed only with her beloved little Shih Tzu and her reporter's instincts, she will be faced with a shocking mystery from the past, a town filled with ghosts and superstitions and a very real murderer who is intent on keeping Samantha from finding out the truth about her mother's past.
Digging Up Momma
is another spellbinding, hilarious and sometimes touching tale from talented mystery author Sarah Shankman. Samantha is a heroine like no other -- her sense of humor and unique outlook on life make for compelling reading. The background of Santa Fe is very well-done and the mystery is an intriguing puzzle. A must-read for Shankman fans, old and new.
---
Mystery Reviews
Page One | Page Two | Page Three | Page Four


Click Here to Return to the Book Reviews Index