Romance Book Reviews
The Internet Writing Journal
,
August 2004
Kiss of Fate by Mary Jo Putney
Ballantine, June, 2004
Hardcover, 340 pages
ISBN: 0345449169
Subgenre: Historical
Ordering information:
Amazon.com
|
Amazon.co.uk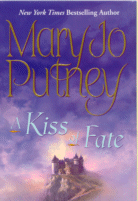 In the mid-eighteenth century Gwynne Owens has always been surrounded by magic, although she doesn't have any powers herself. She is the daughter of the librarian for the wealthy and powerful Guardians, mages who wield their gifts secretly in order to preserve England and Scotland. When Gwynne is told by the Council of the Guardians that they would like her to marry Duncan Macrae, the Scottish Guardian, Storm Lord and mage, she resists at first but finally agrees. After her marriage, Gwynne finds out that she actually has incredible powers herself. She adjusts to being the mistress of a Scottish castle, but when Bonnie Prince Charlie arrives to raise an army to rebel against the English occupation, Gwynne knows that she has a decision to make. As a Guardian, Duncan is sworn to uphold the English king to avoid the greater harm to the country, but as a Scotsman, he longs to use his power to help the Jacobite rebellion. Now Gwynne must make a terrible choice between the man she has come to love and her sworn duty as a Guardian.
Mary Jo Putney has an amazing gift for making the past accessible. In this first book of a projected new series, magic is interwoven with real historical events with fascinating results. The Guardians are in society, and yet outside of it at the same time. The female Guardians are much bolder and have much more freedom than other women of their time. Ms. Putney weaves a wonderful and passionate love story between Duncan and Gwynne, with vivid supporting characters and a breathless pace. This is an outstanding beginning in what is sure to be a fantastic new series.
---
The Last Mermaid by Shana Abe
Bantam, June, 2004
Paperback, 580 pages
ISBN: 0553584979
Subgenre: Fantasy
Ordering information:
Amazon.com
|
Amazon.co.uk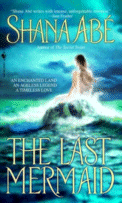 Prince Aedan of the British Isles has never believed in the legends of a beautiful siren who lives on the enchanted island of Kell. But when his ship is attacked, Aedan is saved by the siren herself, Ione. But Aedan fulls a strong pull of duty -- his kingdom and his people need him. So begins the fascinating trilogy which winds together three stories -- one set in medieval times, one in the 18th century and one in modern-day. All three stories are linked by an old legend about a siren who lives on a magical island and a man with whom she is linked. The stories are all told in different voices, with differing points of view -- which gives the reader three different persectives on the story. Shana Abe has an interesting way with words, and her characters are complex. They really struggle to make the right decisions. These three powerful and magical love stories are the perfect summer read.
---
Romance Book Reviews
Page One
|
Page Two
---
Return to Book Reviews Index