Nonfiction Book Reviews
The Internet Writing Journal
,
April 1999
How to Save Big Money When You Lease a Car by Michael Flinn
Perigee, April 1999.
Paperback, 270 pages.
ISBN: 0399524835.
Ordering information:
Amazon.com.
|
Amazon.co.uk
This informational how-to book introduces the reader to the concept of car leasing, explains the differences and advantages over purchasing a car and provides instruction on how to save money when leasing a car. The first chapter answers commonly asked questions including: "Is Leasing Good for Me If My Credit is Bad?", "Does Leasing Require Me to Carry More Insurance?" and "Won't I Be Better Off Owning the Car?" The next chapters provide information on what leases are, different types of leases and information you need to know before you a ready to go and sign a lease agreement. Some of the leasing topics addressed in these chapters includes: depreciation, early buyout, lease terms, leasing versus buying, when to make a lease deal, how to price your present car, how to calculate lease payments and how to understand advertisements. The final chapters of the book provide information on obtaining a lease including: examples of leases, dealing with salespeople, negotiating the lease and leasing a used car. The appendix in the book contains a sampling of residual value factors, details about other car leasing resources and a glossary of leasing terms.
This reference provides valuable instruction on how car leasing works from the inside out with instruction on how to understand a lease and tips on when to sign a deal. Don't miss this one if you are planning on leasing a car anytime in the near future.
---
The Kensington Way by Stephen Twigg
Dutton, January 1999.
Hardcover, 275 pages.
ISBN: 0525944591.
Ordering information:
Amazon.com.
|
Amazon.co.uk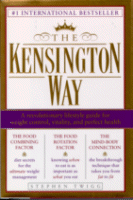 The Kensington Way
is a diet and lifestyle program that focuses on three principles: food combining, food rotation and a mind-body approach. The program was created by author Stephen Twigg and has been used by celebrities, business professionals and political leaders, including Princess Diana. The goal of the program is to achieve weight management and health benefits by combining certain food groups, eating certain foods at certain times and by using motivational and visualization techniques. The book addresses these three main areas and provides instruction, examples and charts to use to record your food intake and follow your progress. The first section of the book covers the food combining aspect of the program in which you are allowed to combine certain foods but not combine others to obtain the most beneficial results. One of the main tenets of the food combining rule is to never eat proteins and carbohydrates so they are present in your stomach at the same time. The second part covers
The Kensington Way Master Plan
which teaches the reader how to follow the plan and learn how to record health symptoms, food intake and chart their progress while on the plan. This section also provides information on creating and maintaining a positive self-image. The final section of the book, The Kensington Cook, provides recipes that fit in with the diet plan including Mushroom Soup, Mint Ice, Turkey Cutlets, Cashews and Stir-fry Vegetables, Steak and Mixed Salad and Chocolate Sorbet.
This reference provides the reader with information about
The Kensington Way
, a novel approach health and dieting. The information is comprehensive and includes complete details on the program and how to try the program yourself and monitor your progress. In addition, the book provides valuable health concepts including secrets to dieting, burning fat, reshaping muscle and building self-confidence. A valuable health and diet tool that brings
The Kensington Way
to readers so anyone can try the renowned program on their own.
---
Nonfiction Reviews
Page One
|
Page Two
|
Page Three
|
Page Four
Return to Book Reviews Index
More from Writers Write