Mystery/Thriller Book Reviews
The Internet Writing Journal
,
April 1998
Angle of Impact by Bonnie MacDougal
Ballantine Books, April, 1998.
Hardcover, 355 pages.
ISBN: 0345414454.
Ordering information:
Amazon.com.
|
Amazon.co.uk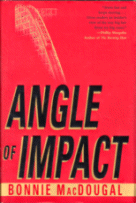 Dana Svennson is a high-powered Philadelphia trial attorney who seems to have it all: a fast track career, a beautiful home and an adoring husband and daughters. But appearances can be deceiving. Dana's rise to the top has had a terrible personal toll: her marriage is crumbling and she doesn't see her beloved daughters nearly enough. While on her way to a client meeting Svenssen witnesses a horrible midair collision between a helicopter and a small airplane over a an amusement park where Dana's children are spending the day. What's worse is that Dana was actually on the phone with her clients who were in the helicopter at the time of the crash. She rushes to the scene of the crime to find her children. After determining their safety, her problems swiftly multiply as she becomes lead counsel to defend Pennsteel in the numerous lawsuits which spring up in the afermath of the horrible accident. Despite having a team of forensic experts working round the clock on the case, determining the cause of the bizarre accident proves nearly impossible due to the mysterious explosion after the crash which destroyed all the evidence. When Dana's house is broken into and her husband is kidnapped, Dana is thrust into a nightmare world of terror and intrigue as she works to solve the case and save her husband's life.
With
Angle of Impact
, trial lawyer Bonnie MacDougal firmly cements her standing as one of the premier authors of legal thrillers today. In Dana Svennson MacDougal creates a strong, complex heroine with which any career woman can identify. With the plethora of legal thrillers on the market today, MacDougal's voice rises above the crowd with her clear, incisive plotting and characterization, her crisp dialogue and her stunning ability to convey excitement and suspense throughout the story. A gripping, exciting read you'll remember long after you've put the book down.
---
What A Woman's Gotta Do by Evelyn Coleman
Simon and Schuster, March, 1998.
Hardcover, 309 pages.
ISBN: 0684831759.
Ordering information:
Amazon.com.
|
Amazon.co.uk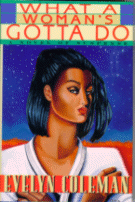 An orphan raised in a series of foster homes, each worse than the last, journalist Patricia Conley learned early on how to fend for herself. Fiercely independent and cynical, she has always considered herself to be "a brother's worst nightmare." So when she decides she has finally found the man she can trust and share her life with she's happy -- until he stands her up at the altar. Then, to make matters worse, he disappears leaving behind a safety deposit box with a cryptic letter, a giant diamond ring, a beautiful necklace and one very angry and confused Sistah. When her apartment is ransacked and she's nearly abducted, Patricia knows that whatever her missing fiance was into was illegal and quite possibly deadly. Determined to solve the mystery and get back control of her life, Patricia is forced on the run from danger. Along the way she encounters a host of oddball characters including an elderly Cistercian monk, an ancient and mysterious West African tribe called the Dogons and a brilliant computer hacker named Prof . As she works towards finding the solution to who is trying to kill her and why so many people seem to want her diamond ring, Patricia must look deep within herself to find the strength she'll need to find the solution to the mystery, save her life and those of her friends and find a way to fill the emptiness in her own soul.
Acclaimed children's author Evelyn Coleman bursts on the thriller scene with her exciting new heroine, Patricia Conley. An interesting mix of thrills, mysticism, intrigue and cutting edge genetic theories,
What A Woman's Gotta Do
is a unique and exciting thriller which will keep you hooked from the minute you read the slam bang opening paragraph right through to the shocking denouement. Conley's voice is strong and refreshing in a genre that can easily grow stale. Funny, fresh and fantastic,
What A Woman's Gotta Do
is a thriller with a heart. With its endearing heroine, social commentary and fast pace, readers are sure to want more adventures for Patricia Conley and look forward to her growth as a person in future books.
---
Mystery Reviews
Page One | Page Three | Page Four | Page Five

Return to Book Reviews Index