Romance Book Reviews
The Internet Writing Journal
,
April 2006
A Quick Bite by Lynsay Sands
Avon, November, 2005
Paperback, 374 pages
ISBN: 0060773758
Subgenre: Paranormal
Ordering information:
Amazon.com
|
Amazon.co.uk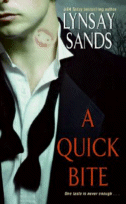 Workaholic psychologist Dr. Greg Hewitt is finally heading out the door for a much-needed Mexican beach vacation when he is hypnotized by a beautiful woman in the parking garage of his office building. He agrees to go with her and then later finds himself tied up on a bed in a mansion. Vampire Lissianna Argeneau stumbles upon the hapless Dr. Hewitt and eventually realizes that her mother has brought him to her as a birthday present. But it's not what one might think. Lissianna has a terrible problem for a vampire: she faints at the sight of blood and has to have her family give her transfusions from the blood bank to keep her alive. Her mother wants the good doctor to cure of her phobia, after which his memories will be wiped and he'll be sent on his way. But Lissianna and Greg find each other quite attractive and become embroiled in a plot whereby a mad priest at the homeless shelter where Lissianna works is trying to kill her (he thinks she's an evil vampire).
This is another delightful story in the chronicles of the ancient and powerful Argeneau vampire family and their adventures as they interact with the modern world. Lynsay Sands is the perfect author for readers who love romance, vampires, humor and not too much blood and gore: it's impossible not to have a smile on your face after reading a Lynsay Sands novel.
---
Crimson Rogue by Liz Maverick
LoveSpell, April, 2006
Paperback, 336 pages
ISBN 0505526255
Subgenre: Paranormal Action
Ordering information:
Amazon.com
|
Amazon.co.uk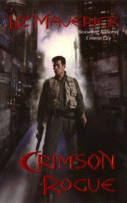 B-Ops Agent Cydney Brighton disappeared while on a case with her partner Dain Reston (
See, Crimson City
) who later decided to turn vampire to be with his lady love, Fleur Dumont, the head of the vampire nation that lives above the clouds in Crimson City. Cydney was on the original science team that opened a portal into the demon world: the horror of what she saw that day nearly destroyed her own life as she spiraled down into a pattern of drugs and despair. On a mission with Dain, she was kidnapped by the demon Griff-Vai who was determined to make her a replacement for the mate he lost. Trapped in the demon world, Cydney would do anything to escape. So when another portal opened, she took her chance and escaped. Now she's back in Crimson City, but she doesn't know who she can trust in B-Ops, so she goes rogue. She meets up with another rogue, Finn, a man who has secrets which rival hers. Together, these two outcasts are going to do whatever it takes to reclaim their lives and try to close the portal to the demon world for good, before Crimson City and everyone in it is destroyed.
The Crimson City series goes out with a bang in this heart pounding, steamy adventure that neatly ties up threads from the previous novels in the series (
Crimson City
by Liz Maverick,
A Taste of Crimson
by Marjorie M. Liu,
Through a Crimson Veil
by Carolyn Jewel and
Seduced by Crimson
by Jade Lee), while leaving readers hungry for more adventures set in this gripping urban fantasy landscape.
---
Size 12 is Not Fat by Meg Cabot
Avon Trade, January, 2006
Trade paperback, 345 pages
ISBN 0060525118
Subgenre: Mystery, Chick-Lit
Ordering information:
Amazon.com
|
Amazon.co.uk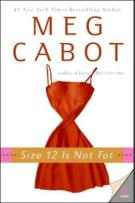 Heather Wells was the Britney Spears of her day -- a teen idol, she had money, a pop star boyfriend and adoring fans. But then her mother and manager absconded with her money, she caught her boyfriend in
flagrante delicto
with rival a pop tart and her record label dropped her when she wanted to perform her own material. Now Heather is out of the music business and living in New York City. Her new job is being the assistant director of the undergraduate residence hall at Manhattan's New York College. She pays rent to the ex-boyfriend's brother, a decent (and quite attractive) sort who works as a private eye. When students start showing up dead in the elevator shafts after supposedly partaking in the latest thrill rage of elevator surfing, Heather isn't buying it. After all, girls don't elevator surf -- but the police ignore her. So Heather decides to investigate on her own, while fending off her crazed ex-boyfriend, people who accuse her of looking familiar and trying not to become the next fatality of the elevator killer. An engaging protagonist, a hilarious narrative style and Meg Cabot's unique take on the world make this an outstanding debut in what is sure to be a popular ongoing series.
---
Return to Book Reviews Index