Reviews of Writing Books
The Internet Writing Journal
,
April 2004
Page One of Two
The Elephants of Style by Bill Walsh
McGraw-Hill, March, 2004
Trade paperback, 238 pages
ISBN: 0071422684
Ordering information:
Amazon.com
|
Amazon.co.uk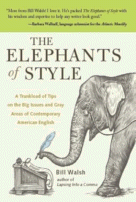 For those who are called upon to write often and under the pressure of deadlines, Bill Walsh's
Elephants of Style
is a welcome and witty friend. For all of those who have ever groaned when they found, too late, a clumsy sentence that had already been read by many,
The Elephants of Style
is fast, easy help. After all, one's high school grammar book is not likely to be enjoyable reading, and worse, will probably not answer specific problems that may confront a writer. As copy chief for national news at
The Washington Post
, Bill Walsh is on the front lines in the battle to keep the English language the sensible, logical and powerful workhorse that serves us so well.
For those who simply enjoy language in all its forms or those who are tying to guide the young into saying what they have to say in intelligible prose, this handbook will put a little humor into the drudgery of writing. Mr. Walsh uses puns and other forms of literary humor in chapters titled "The Spin Wins: Great Moments in Obfuscation," and discussions of the way that an earnest writer can be ambushed by ambiguity, such as what the term "foreseeable future" can possibly mean. The latest verbal viruses to infect the language, such as misplaced and undeserved apostrophes, when to comma and when not to comma, and how to deal with the horrors visited on the language by the scribes of advertising, are all met head on and quickly trounced by the author's searing logic. No longer will thoughtless spokespersons be able to use senseless terms such as "foreseeable future," which -- as Mr. Walsh points out -- is never foreseeable.
The Elephants of Style
belongs on a writer's bookshelf as an insurance policy against tangled syntax, meaningless terms and the varied assaults on intelligent communication that threaten the language that we share with the world.
--Sarah Reaves White
---
The Quotable Writer Edited by Lamar Underwood
The Lyons Press, April, 2004
Hadcover, 352 pages
ISBN: 1592281338
Ordering information:
Amazon.com
|
Amazon.co.uk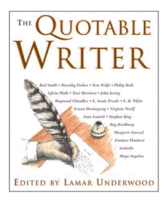 "Cut out all those exclamation marks. An exclamation mark is like laughing at your own joke." --F. Scott Fitzgerald. These any many other helpful and pithy quotations are found within
The Quotable Writer
, a hardbound book of amusing, inspiring and thought-provoking quotes from well-known writers about the writing process. The quotes from famous writers cover all aspects of the craft of writing, including breaking writer's block, writing regularly, dealing with editors, handling tough critics, coping with rejection and working with Hollywood. Quotes from Ian McEwan, Aristotle, Tom Wolfe, Sylvia Plath, Michael Crichton, Toni Morrison, Ernest Hemingway, Stephen King, Ray Bradbury and many others are included.
The Quotable Writer
will make a great addition to your writer's desk or a great gift book for a writer friend or co-worker.
---
Writing Book Reviews
Page One |
Page Two
---
Return to Book Reviews Index