Reviews of Writing Books
The Internet Writing Journal
,
April 2002
Be Your Own Literary Agent by Martin B. Levin
Ten Speed Press, February, 2002
Paperback, 242 pages
ISBN: 1580083382
Ordering information:
Amazon.com
|
Amazon.co.uk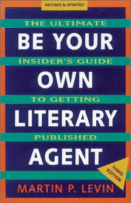 This is the third edition of this book which provides inside information about the trade business of agents, as well as practical advice for writers. This revised edition includes new information about publishers who accept manuscript submissions, ebooks, electronic rights and standard terms used by publishing professionals. Levin provides information about the work agents do, and includes explanations of query letters, cover letters, book proposals (with examples), and book contracts. The book also covers another important subject -- money. In easy to understand language, the author shows you what makes a poor deal, a fair deal and a good deal when negotiating a contract for a first novel.
Martin P. Levin has spent over fifty years in the publishing business and has been involved with top authors including Stephen King, Ken Follett and Erika Jong. Currently, he works for an intellectual property firm and is a professor at the New York University Law School. Levin does a superb job of explaining contracts, rights and legal terms in laymen's terms. Even if you decide not to be your own agent, you will learn so much about the process what agents do that you will certainly make an informed decision when you do choose an agent. Levin's book is jam-packed with exactly the kind of information writers need to get their work published, and get paid for their efforts.
---
How to Grow a Novel by Sol Stein
St. Martin's Griffin, March, 2002
Paperback, 240 pages
ISBN: 0312267495
Ordering information:
Amazon.com
|
Amazon.co.uk
Editor and author Sol Stein helps writers learn what they are doing wrong and provides practical advice and methods for fixing and avoiding common writing mistakes. Sol Stein is a well-known author, writing teacher and editor. Stein also wrote the popular writing book,
Stein on Writing
. An editor for top writers such as James Baldwin, Jack Higgins and Elia Kazan, Sol Stein really knows his stuff. He's see all of the mistakes that writers make, and tells you how to fix them. Stein guides writers through the writing process, step by step. Stein teaches writers how to focus on what the
reader
needs to get out of a novel; he teaches writers how to grab and keep a reader's attention. In the book he also covers the usual craft of writing topics like conflict, dialogue, characters and plot ideas, but he also provides inspiration to keep writers going. For example, when faced with writers who can't find the time to write, Stein explains the story of Christy Brown whose life was the basis of the feature film
My Left Foot
. To the writer with no time to write Stein says, "He [Brown] wrote his manuscripts one letter at a time on a special typewriter IBM contrived for him. All the lines on the occasional letter I received from Christy slid upwards at an acute angle because IBM didn't figure out how to make the paper-grip work on the special typewriter. Christy wrote his three novels and two books of poetry within a single decade, taking time off to do the
Today Show
and the
David Frost Show
and interviews in England, all from the wheelchair he was confined to for life. What did you say your problem was?" This is an exceptional writing aide -- one that can and should be read all the way through.
How to Grow a Novel
is great book for improving one's writing -- and one's attitude.
---
The Writers Guide to Writing Your Screenplay by Cynthia Whitcomb
The Writer Books, January, 2002
Paperback, 221 pages
ISBN: 0871161915
Ordering information:
Amazon.com
|
Amazon.co.uk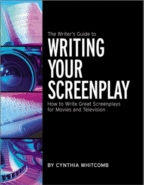 This book provides instruction for writing screenplays and television scripts. The book includes checklists, practical advice and tips, as well as excerpts from screenplays. An important feature in the book is the detailed explanations of how to format the scripts. The book explains each portion of the screenplay so screenwriters understand what each part means and why it is necessary -- in addition to basic instruction about how to format a script. This formatting instruction includes terminology, page numbering, formatting specifics, headings, camera directions and even special formatting techniques, such as if you want to show that your character is singing. In addition to this special chapter, the book also includes script examples throughout the book to help the writer. Other topics covered in the book include research, three-act structure, storyboards, characters, conflict, opening and endings and rights. The book also lists additional resources for screenwriters and gives suggestions of movies to rent.
Cynthia Whitcomb has sold over seventy screenplays and television scripts, and has also taught screenwriting for nearly twenty years at the UCLA Film School. Ms. Whitcomb provides a well-laid out and easy to understand guide, that will surely benefit screenwriters. The book follows Whitcomb's process of writing a screenplay using both your creative right brain and your analytical left brain. The process involves four steps: The Spin, The Heart, The Mind and The Spirit, and the book follows these steps logically allowing the reader to learn Whitcomb's process as well as learn screenwriting methods, tips and tricks along the way.
Writing Your Screenplay
is packed with good advice and information -- this is a must-have for screenwriters.
---
Return to Book Reviews Index