Reviews of Writing Books
The Internet Writing Journal
,
April 2001
Page Two of Two
The Forest for the Trees by Betsy Lerner
Riverhead Books, November 2000.
Paperback, 284 pages.
ISBN: 1573228575
Ordering information:
Amazon.com.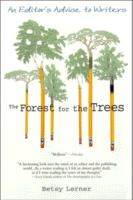 Writers should always listen to advice from experienced editors, whenever and however they can get it.
The Forest for the Trees
is a reference for writers, by an editor. Author Betsy Lerner begins the book by profiling what she believes are the different types of writers, including the ambivalent writer, the natural, the wicked-child, the self-promoter and the neurotic. (As a writer, you might find characteristics of yourself described in one or more of these chapters that could provide some valuable insight as to your writing style and behavior.) The next sections in the book cover the publishing world, including agents, publication, rejection and interesting chapters about what both editors and writers are looking to get out of the process.
Author, editor and literary agent Besty Lerner provides solid advice and inspiration for writers in this reference that lets writers in on how editors think. Lerner excels at describing the various character types of writers and in explaining the interactions between editors and writers. At the same time, she is equipping writers with knowledge of the inner-workings of the business; she is also encouraging and inspiring writers to succeed. Lerner's book is a must-read for writers who are serious about getting published in today's tough market.
---
Writing Romantic Fiction by Daphne Claire and Robyn Donald
A&C Black, 1999.
Trade Paperback, 122 pages.
ISBN: 0713648872
Ordering information:
Amazon.com.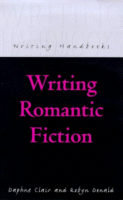 Writers looking for information about how to write a romance novel will find a variety of helpful information in
Writing Romance Fiction
. Written by two popular New Zealand romance novelists, Daphne Clair (aka Laurey Bright) and Robyn Donald, the book offers writing instruction from many different viewpoints; the two authors have very different writing styles and they also include methods used by other romance writers. Daphne Clair and Robyn Donald have written over fifty books each. Here they offer what they have learned throughout their careers and through the courses they have taught. There are valuable tidbits on many topics, including characterization, tension, pacing, setting, emotional intensity, editing and rewriting. Some highlights include a list of classic romance plot situations, an editing and rewriting checklist, a list of clichés to avoid and a fiction techniques section which provides a collection of helpful romance fiction writing tips. Aspiring romance authors will find Ms. Clair's and Ms. Donald's advice to be extremely helpful.
---
Writing Reviews
Page One
|
Page Two
Return to Book Reviews Index