Reviews of Writing Books
The Internet Writing Journal
,
April 2001
Page One of Two
Creative Wisdom for Writers by Roland Fishman
Allen & Unwin, April 2001.
Paperback, 255 pages.
ISBN: 1865083364
Ordering information:
Amazon.com.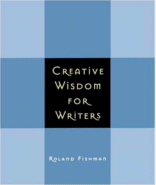 Whether you are writing a corporate newsletter or working on your novel, sometimes the words just don't flow as easily as they should. And sometimes it feels too much like a job. Here is a little book that can help you get your creative thoughts flowing again. The book provides pithy advice and quotes for writers from famous artists, authors and persons. For example, Robert McKee said, "For writers who can tell a quality story it is a seller's market. Always has been, always will." Ernest Hemmingway said, "We are all apprentices in a craft where no one ever becomes a master." And Elmore Leonard said, "The difference between me and a master is I cut out the boring bits."
Creative Wisdom for Writers
is a fun book to flip through that can also help you start writing again when the inspiration is not there. It would also make a great gift for fellow writers.
---
The Creative Writer's Companion by Stan Corwin
St. Martin's Press, March 2001.
Trade Paperback, 172 pages.
ISBN: 0312252765
Ordering information:
Amazon.com.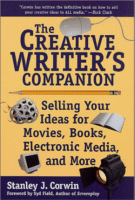 This book begins with a foreword from Syd Field, a well-known screenwriting teacher, who tells us we are at the beginning of a revolution where a writer's creation is marketed in several different arenas, such as books, movies, video games, greeting cards and even toys. The book then expands on the concept introduced by Syd Field by teaching writers how to sel their work to different media outlets, including film, television, books, audiotapes, CDs and other media markets. Some important concepts covered include rights, copyrights, trademarks, licensing, merchandising, ebooks, digital publishing, audio and video and the Internet.
Author Stanley C. Corwin, who has been a publisher and is currently president of media company Stan Corwin Productions, offers suggestions and advice for writers who are out to make the big bucks by selling their work across various mediums. In one section, Corwin even provides query letters that incorporate the idea of cross-media sales. He also discusses ways writers are benefiting from selling their work to different mediums and highlights real-world examples. The use and sale of writer's work over multiple mediums is a crucial subject which writers today must understand and Corwin's book provides a solid base from which writers can then begin to learn more about these concepts by reading the trades, following the news and talking to agents, lawyers and publishers.
---
Writing Reviews
Page One |
Page Two
Return to Book Reviews Index