The Writer's Mentor: Secrets of Success from the World's Great Writers
by Jan Jackman
Random House, April, 2004.
Paperback, 246 pages.
ISBN: 0375720618
Ordering information:
Amazon.com
|
Amazon.co.uk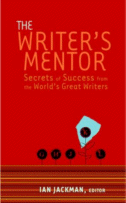 The Writer's Mentor
offers writers expert advice on a variety of writing subjects. Editor Jan Jackman, a writer, ghostwriter, and former managing director of the Modern Library, has done a magnificent job of collecting and arranging famous quotes, along with his own pithy advice and commentary. Using practical and inspirational advice (provided in quotes) from terrific writers like Isaac Asimov, Edgar Allan Poe, Toni Morrison, Margaret Atwood, William Faulkner, Norman Mailer and Tennessee Williams, Jackman offers insight into the writer's craft. Jackman also explores the world of publishing with quotes and thoughts from publishers, editors and agents.
The Writer's Mentor
also discusses different kinds of writing including journalism, poetry, playwriting and screenwriting. This collection of thought-provoking gems from literary greats will assist writers in attaining a greater understanding of the writing process and the publishing business. Highly recommended.
Reprinted with permission from The Internet Writing Journal®.
Copyright © 1997-2016 by Writers Write, Inc. All Rights Reserved.