The Violet Keystone (The Seventh Tower: #6)
by Garth Nix
Scholastic, December, 2001.
Trade paperback, 23 pages.
ISBN: 0439176875
Ages Ages 9-12
Ordering information:
Amazon.com
|
Amazon.co.uk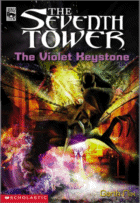 In this long-awaited final installment in the compelling fantasy series,
The Seventh Tower
, Tal and Milla reach their journey's end. The war between the Chosen, the free Spiritshadows and the Icecarls is now raging in the Castle. Tal and Milla meet up at last to face the evil Sharrakor (who intends to rule both the Castle and Aenir), and for Tal to meet his destiny. Milla, who is now known as Milla Talon-Hand, is the leader of the Icecarls, and Tal has mastered the violet light of royalty. But does that make him the king of his land? Tal and Milla must face overwhelming obstacles in order to reach their final goal of sealing the rift between the veil and the Castle, sending all the errant Spiritshadows back to Aenir and restoring order to their world.
The Violet Keystone
neatly pulls together all the plot threads that have kept readers spellbound for the last five books in the series. Both Tal and Milla have grown immensely as characters since they first met in Book One. The action and suspense continue right up to the very last page; this is an outstanding fantasy series by the talented Garth Nix. We can hardly wait to see what he does next.
--Claire E. White
Reprinted with permission from The Internet Writing Journal®.
Copyright © 1997-2016 by Writers Write, Inc. All Rights Reserved.