The Best Military Science Fiction of the 20th Century
by Harry Turtledove with Martin H. Greenberg (editors)
Del Ray, May, 2001.
Trade Paperback, 544 pages.
ISBN: 0345439899
Ordering information:
Amazon.com
|
Amazon.co.uk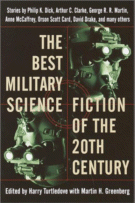 Editors Harry Turtledove and Martin H. Greenberg took on a difficult project when they decided to select the very best military SF stories of the 20th century for this anthology. The pieces they selected all certainly qualify as excellent: thirteen stories by such luminaries in the field as Philip K. Dick, Orson Scott Card, Joe W. Haldeman, Arthur C. Clark Anne McCaffrey, C.J. Cherryh, George R. R. Martin are all represented here. A unifying theme seems to be short stories which led to greater things. The short story which inspired the brilliant, novel-length form of
Ender's Game
by Orson Scott Card is here, as is the McCaffrey short story which started the
Dragonriders of Pern
phenomenon (which is really a novella). "Hero" by Joe Haldeman led to
The Forever War
.
The book represents older stories written in the 1950s through more recent ones, such as "Scapegoat," C.J. Cherrah's interesting tale about communication and the misunderstandings of war. While some of the stories seem a bit dated in the technological department, they nevertheless hold their appeal because of the authors' skill with characterization and imagination. This is an excellent anthology that is a must-have for fans of the military SF subgenre.
Reprinted with permission from The Internet Writing Journal®.
Copyright © 1997-2016 by Writers Write, Inc. All Rights Reserved.