Lisa's Airplane Trip
by Anne Gutman, Illustrations by Goerg Hallensleben
Knopf, March, 2001.
Picture Book, 32 pages.
ISBN: 0375811141
Ages 4-8
Ordering information:
Amazon.com
|
Amazon.co.uk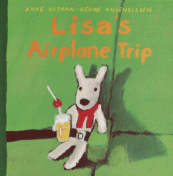 Lisa is an adorable little white dog who is taking her first airplane trip alone; she is flying on a jumbo jet from Paris to New York. At first she sits next to a blue lady (she's wearing a blue dress), but Lisa squirms around so much that the blue lady moves to another seat. So Lisa stretches out for a little nap, then wakes up in time for lunch. A full-color page shows in detail all the food you get on an airplane, including a giant glass of orange juice which Lisa splashes everywhere in her attempt to see the in-flight movie. This leads to a bath in the sink administered by the stewardess, and a trip to see the cockpit. The pilot remarks that the little dog smells nice -- "It was the soap," remarks Lisa. They land without further incident, Lisa meets her uncle and they head off for a vacation in New York -- after waking up her parents with a transatlantic phone call to let them know that Lisa arrived safely.
The Misadventures of Gaspard and Lisa
is a wonderful series, translated from the original French version. The story is one that any child can relate to. Told from Lisa's point of view, the narrative is funny, yet reassuring. Georg Hallensleben's acrylic paintings are really wonderful, with bright colors and a lively energy which really takes the story to another level. This is an absolutely charming and funny series which the preschool set and their parents will truly enjoy.
Reprinted with permission from The Internet Writing Journal®.
Copyright © 1997-2016 by Writers Write, Inc. All Rights Reserved.