Jim Butcher Approves of New Dresden Files Movie
Author Jim Butcher has
praised
the Sci-Fi Channel's adaptation of his Dresden Files series, which must be quite the relief after Ursula LeGuin's trashing of their version of her Earthsea books.
The Dresden Files
will be a television movie adaptation of his series about a wizard detective.
"I saw the clips [of the movie] and thought my jaw was going to fall off my skull," Butcher said in an interview. "I'm very pleased with how well [screenwriters] Robert [Hewitt Wolfe] and Hans [Beimler] get the whole wizard detective concept, and I liked the movie script very much."

*****

Butcher said that he optioned his books to Gendel, a producer and writer on Star Trek: The Next Generation. Now, Butcher said, "I am in regular contact with Robert Wolfe, the show's producer, who has been great about letting me suggest things here and there and about asking for my thoughts on things."

Butcher added that he plans to visit the movie set in Toronto. If the movie, a pilot, becomes a series, will Butcher write any episodes? "Not if I want to meet my book deadlines," he said. "If the show goes on and on for seasons and seasons, maybe I'll try to write an episode. But outside of that, I'll probably just focus on my job and let the screenplay writers do theirs." The Dresden Files will premiere on SCI FI in the summer of 2006.
It sounds like they consulted Butcher, which was a wise move. Paul Blackthorne (
24
,
Medium
) is playing Harry Dresden, and Nicolas Cage is a producer. We'll definitely tune in to see how it turns out, because we do love the Harry Dresden series.
Posted on January 4, 2006
---
---
---
comments powered by
---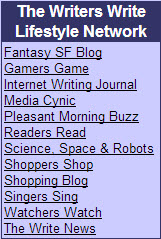 ---
---